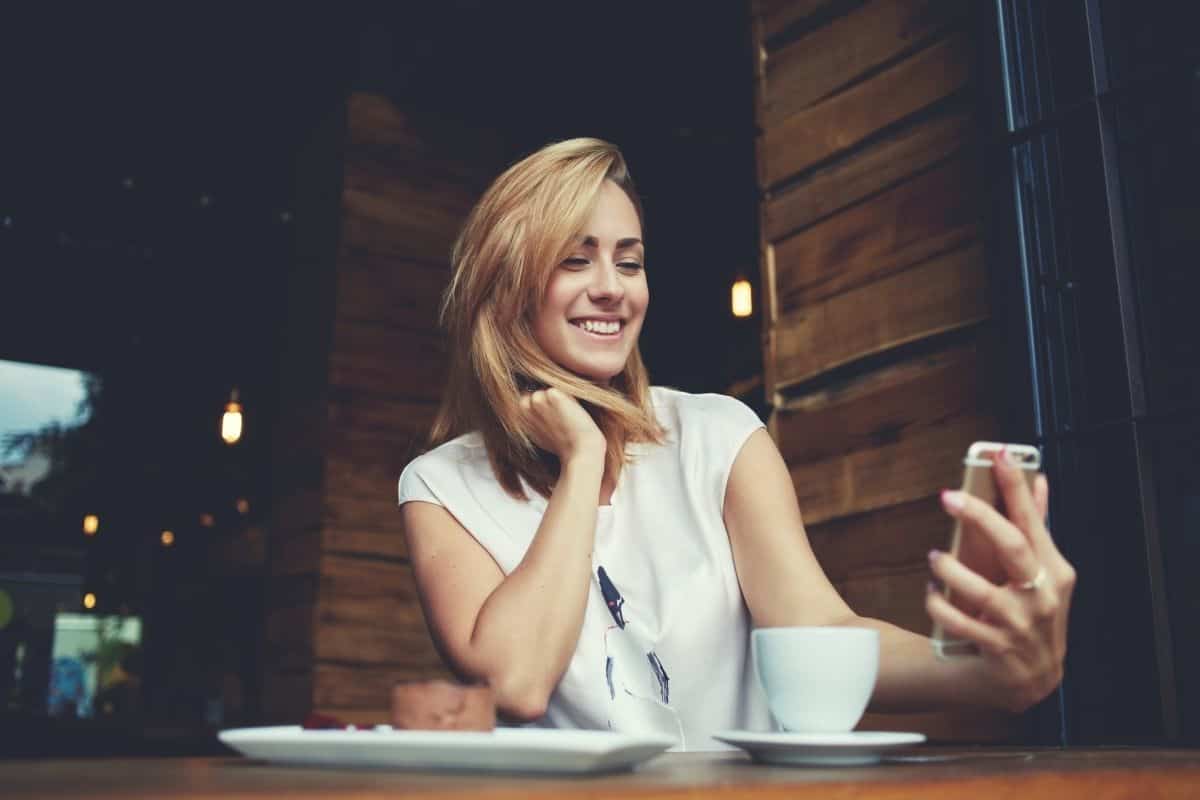 Prepare to Be Amazed at These Facebook Check In Case Studies
"How many people walk by a penny they see on the ground? Almost everyone…while the person who made their fortune by picking up loose change is laughing all the way to the bank. The same is true of those taking advantage of Facebook Check Ins."
~ Ed Forteau
Facebook Check In Marketing–done right–is an incredible word-of-mouth marketing machine.
It checks all the boxes of persuasion you will find in Robert Cialdini's great book, Pre-Suasion: A Revolutionary Way To Influence And Persuade. Don't have time to read it and discover the magic of pre-suasion? Watch and learn…
All of these Check Ins are just part of our daily life. None of the businesses are clients of mine. We don't share client campaigns.
We did these Check Ins without the owner knowing. We wanted the results to occur naturally. If the business saw the Check In and engaged us, we would respond the way we always do…ask them to play on Facebook with us! A couple of the businesses did see our Check In, and joined in the fun.
All of the businesses picked up new customers from our Check Ins. And that is part of the point we are trying to make. Check Ins result in more sales, even when the business is unaware of them. But they result in a lot more sales when the business gets involved.
Over 99% of businesses have no plan to leverage Facebook Check Ins. Those 1% of businesses who do have a plan are like the person who collects the loose change. They are laughing all the way to the bank.
This case study was conducted in Kalamazoo, MI.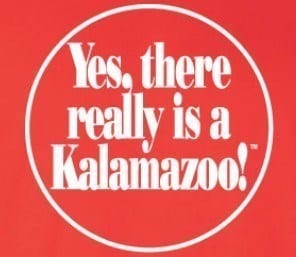 Full Disclosure: We mostly used my wife's account to do these Facebook Check Ins. She would be considered a social media influencer. She has a greater than average number of Facebook Friends. And she is a Yelp Elite. Together, we co-publish a travel website: WanderingEducators.com. She likes writing reviews, so adding a little extra to her Facebook Check Ins is natural.
I, on the other hand, do not have a large number of friends on Facebook. In fact, I have well below the average number of Facebook friends. Interacting with friends on Facebook just isn't my thing. And yet, many of the Check Ins I do exceed most businesses' best performing post in terms of engagement and reach.
Facebook Check Ins work. It is as simple as that.
This case study documents just how effective they are.
"The average Check In (done right) will outperform over 90% of your Fan Page posts, in terms of Engagement and Reach. Just think about that."

~ Ed Forteau
We all know a good coffee shop (or two)…
Rose Gold Coffee Company
Coffee shops can truly leverage Facebook Check Ins. This coffee shop does a really good job on their Fan Page. There is lots of engagement on their posts, yet this Check In outperformed them all.
We did this Check In the day before my wife's birthday. By combining a birthday with a Check In, this post turned into a home run. This single Check In was seen by thousands of people. 40 Likes, 22 Comments.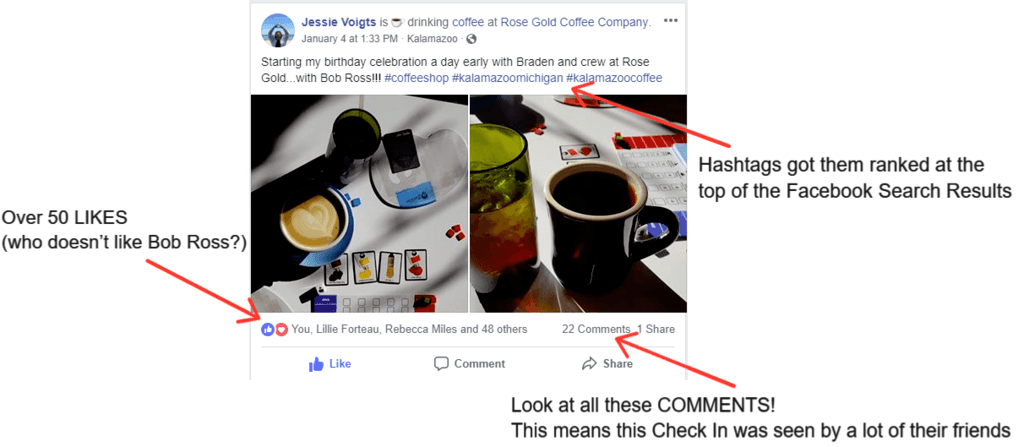 Rose Gold has games you can play. The one in the pictures are the game we had specifically gone there to play: Chillin' with Bob Ross. Several of our friends had asked what we were doing. The conversation started on the post, and moved to Messenger. Now several of our friends are new customers of Rose Gold. (Imagine if they also sold games!)
Rose Gold only needed to set the conditions for people to Check In, and the rest just happened naturally.
Does your business do Birthday Promotions? You should. Combine them with a Check In promotion, and you'll have a real hit on your hands.
Note: This doesn't just work for coffee shops, donut shops, bakeries, and cafes. Any location where there is a waiting, or sitting, area (doctor's offices, dentists, auto mechanics, oil change, and the like) is a perfect stage for an interesting Check In…provided the business creates the right conditions.
And then, there was more…
Rose Gold Share
I shared the Rose Gold post and another 15 people liked it, with 6 more comments. Thousands more people saw this post because I shared it.
The hashtags caused it to show up at the top of the Facebook Search Results. It was only temporary, but a handful of Check Ins like this each week would cause them to stay at the top of the Facebook Search Results whenever someone is looking for a good coffee shop in town.
The owner told us that week was busier than usual. He didn't know we had a hand in that.
With a little incentive, you can get people to Like, Comment, and Share every Check In Status Update from your customers…easily multiplying their reach tenfold.
You may have noticed from our articles that we really like donuts. Read on…
Sweetwater's Donut Mill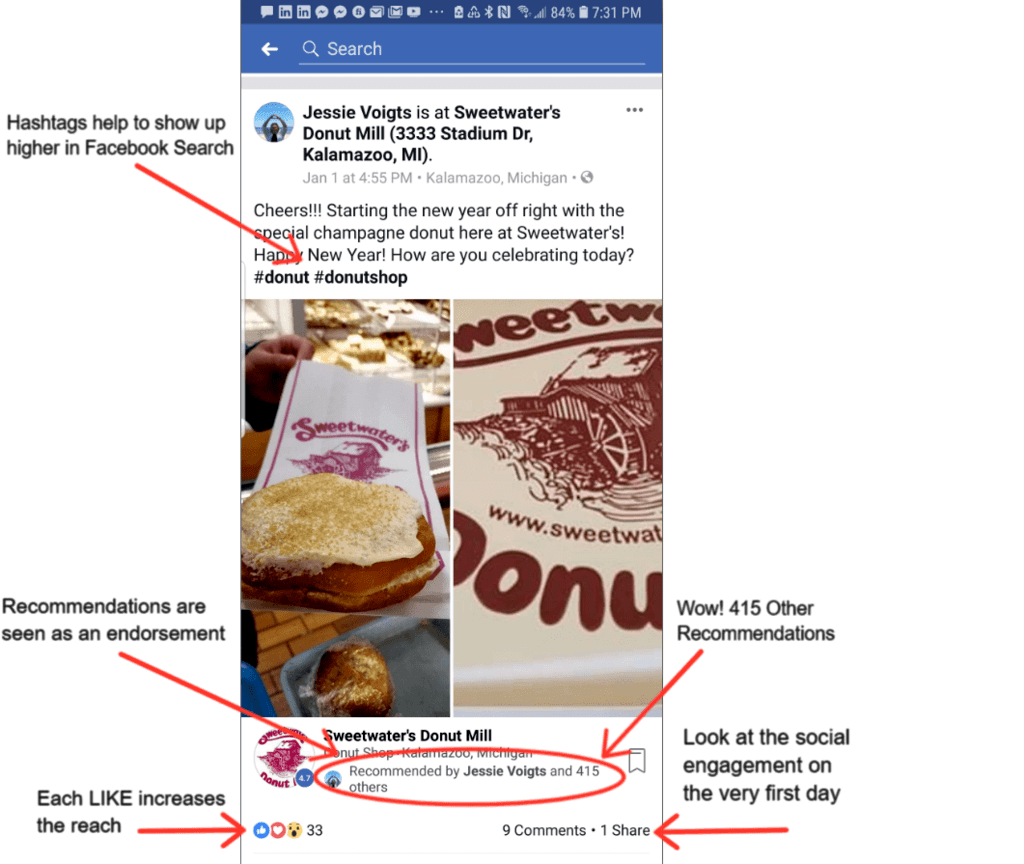 Sweetwater's has a great reputation for creative donuts, in addition to the standards. Plus, their billboards are on point. But let's get to the Check In:
There are so many great things going on with this Check In that it is overwhelming, but let's try anyway.
The 33 Likes resulted in 33 friends sharing the post with their friends.
9 Comments. This food cue caused people to ask about the specialty donut of the day. We told them it was delicious, because it was. A few of our friends went there to try the Champagne Donut. No one drives to a donut shop and buys just one donut. A few people thanked us for reminding them about Sweetwater's Donut Mill. They forgot about them, and just needed a friendly nudge to go back. (Who forgets donuts?!)
The recommendation. When a friend recommends a business, you tend to take notice.
When you see 415 other people who have recommended that same place, you really take notice.
All that activity caused our favorite donut shop to dominate the Facebook Search Results.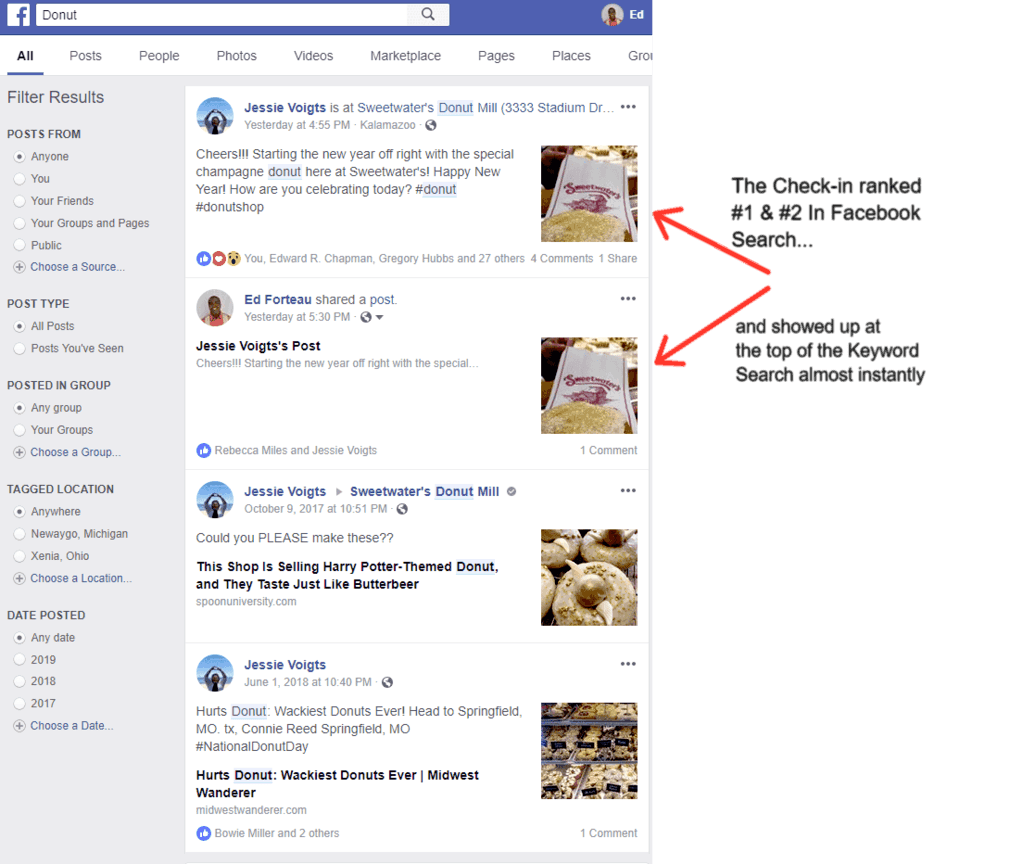 Of course, this works well for anyplace that sells food. But they also had scarcity in play. That donut was only available that day, and then it was gone forever. That caused people to take immediate action. Stop whatever they were doing. And drive to the donut shop.
All that from just one Check In.
These guys are sitting on a promotional goldmine and don't even realize it.
Listen to the music…
Crescendo Academy of Music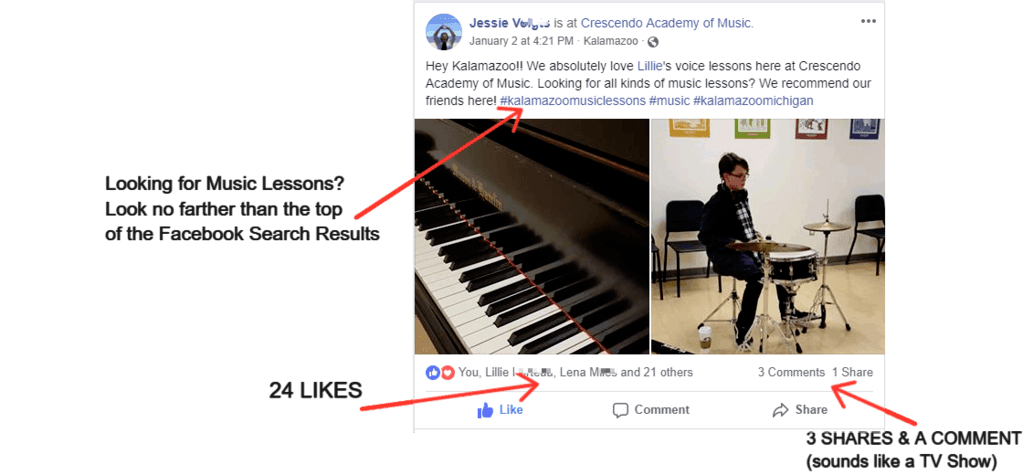 A music academy is a far cry from a restaurant, but Facebook Check Ins work well here, too. 24 Likes, 3 Comments, and 1 Share, resulting at least one donation to the Crescendo Academy.
Note: we didn't ask anyone to make a donation, but they did anyway. And one of our friends who made a donation doesn't even live in Kalamazoo, but in Chicago.
We all need a mechanic, and for some reason, we are all searching for mechanic recommendations. Look no more, Kalamazoo…
Master Mechanics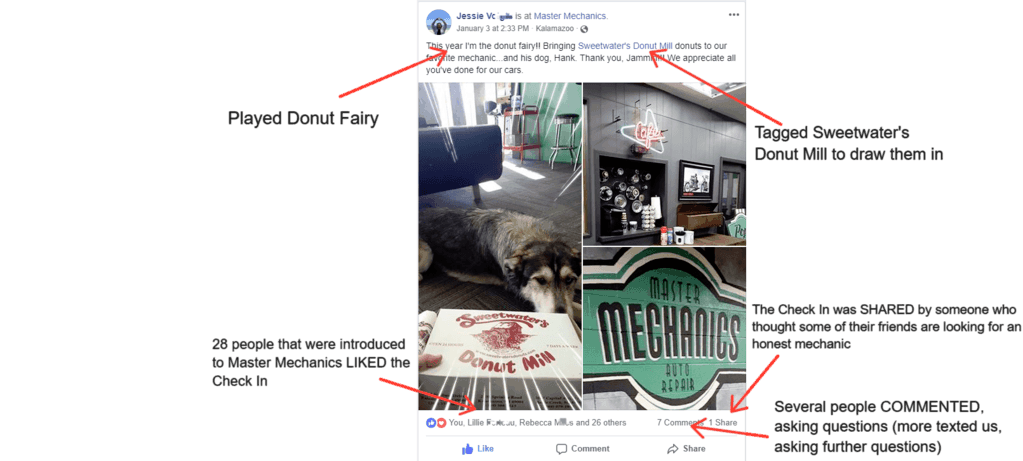 This is our favorite mechanic. Exactly the type of auto mechanic you're looking for…an honest mechanic with fair prices. Finally!!
We brought them donuts, as a thank you for the work they did on our cars last year. Jamin, the owner, was taken aback.
Master Mechanics does a great job with their social media with lots of Google, Facebook, and Yelp 5 Star Reviews. Lots of people love–and recommend–them. You'll notice there are No Recommendation numbers showing up on this Check In. A missed opportunity.
Even so, this Check In Status Update made Jamin money in a couple different ways. He ended up getting an $800+ repair customer (my wife's aunt who saw the post, and was looking for an honest mechanic). Sweetwater's Donut Mill was tagged (our Check In JV Strategy), and they LIKED the post, getting it more local exposure. And the post ranked well in the Facebook Search Results for a few days, probably resulting in more new business (but that is unconfirmed).

Side Note: Our Check In Joint Venture Strategy is designed to leverage the influence of other businesses. It works really well.
Jamin has an active Facebook Fan Page and posts regularly. Yet, this Check In outperformed his best post. That isn't unusual. If fact, it is typical. Because of Facebook's new algorithm, friends' post will have a far greater reach than Fan Pages. Getting your customers Checking In is the only way to get the kind of reach with Facebook that we used to see 5 or 6 years ago.
Who doesn't love vinyl?
Green Light Music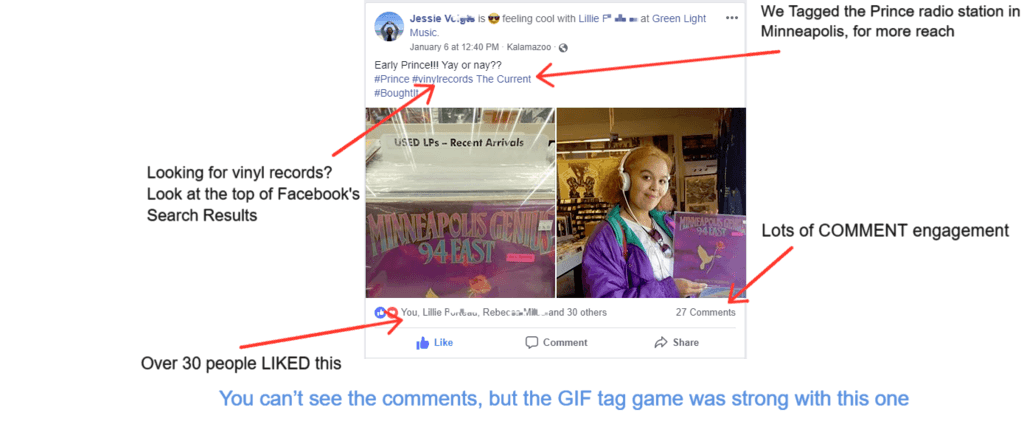 This is a great example of what happens when the business gets involved with the Check In. This business actually joined the conversation, so we decided to engage with them even more. This brought others into the conversation, resulting in 27 Comments and 33 Likes. My wife also tagged the Minneapolis radio station that is known for one full channel devoted to their local boy. It didn't hurt that the subject (Prince) is both popular and that facebook has many Prince gifs available. Gif tag is a real thing, my friend.
Talking to your customers in real time results in immediate dividends (besides our purchases). Two people who jumped into the conversation came down to shop, and discover their own treasures. Others hadn't known about this record store, and thanked us via text (sometimes with photos of what they had purchased). Vinyl records are back in style, and now a lot more people in town know about this cool record store.
Side Note: Getting the business involved in the Check In conversation is a powerful strategy. We call this our Facebook Fairy Strategy. This was just one Check In. When you get 15-20 people to Check In during a day (like running a promotion), drawing others into the conversation and will fill your business with new customers.
Think about it: the average Facebook user has 338 friends. And each Facebook Check In goes out to ALL of them (as well as the public!). If you have 20 customers Check In, approximately 6,760 of their friends will see it. A proactive approach by the business would be to draw as many of those people as possible into the conversation. Here is an opportunity to talk to interested potential customers before they even enter your store. When you do that successfully, the result is a record sales day (excuse the pun).
Good morning, my love!
EdForteau.com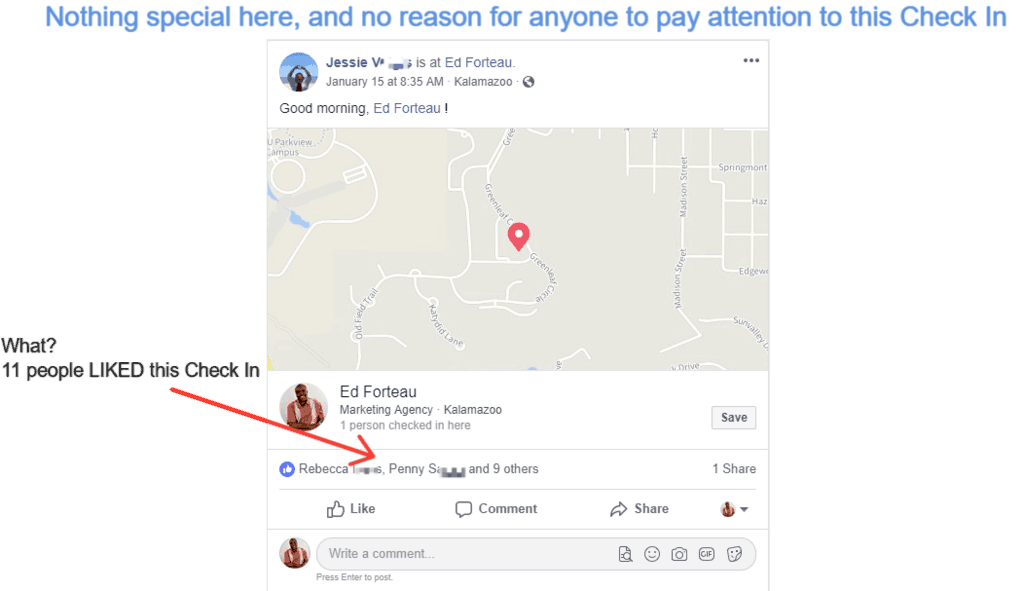 This Check In was done in response to me saying, "Good Morning" to my wife. People don't come here to meet with me. And I have a grand total of 2 Facebook Fans (one of which is my wife. It's the classic tale of the shoemaker that doesn't have any shoes). I love Facebook, but Linkedin and Twitter are a better fit for our digital agency.
Side Note: I do have popular Fan Pages in the Health niche. 17k, 16k, and 3k, respectively. I'm not a hypocrite. For the right type of businesses, adding a decent number of Fans is important. Please don't judge me. I don't believe in throwing away money just for appearances, and neither should you. Okay, Let's move on.
I think Facebook Check Ins fits like Cinderella's slipper for local businesses. It makes perfect sense.
Having said that, this Check In is a great example of how you can turn any Check In into more business. A couple of the people who Liked the Check In are potential clients. I didn't reach out to them, because they are friends. I don't mix business with friendship.
The point of this is: don't let having only a few Facebook Fans, or not even having a Fan Page at all, stop you for leveraging Facebook Check Ins. Once your page is properly set up, you'll start seeing results the instant you start your first Check In Marketing Campaign.
My wife really loves coffee (she even wrote the complete guide to Kalamazoo coffee shops)
Yelp Elite Event with Water Street Coffee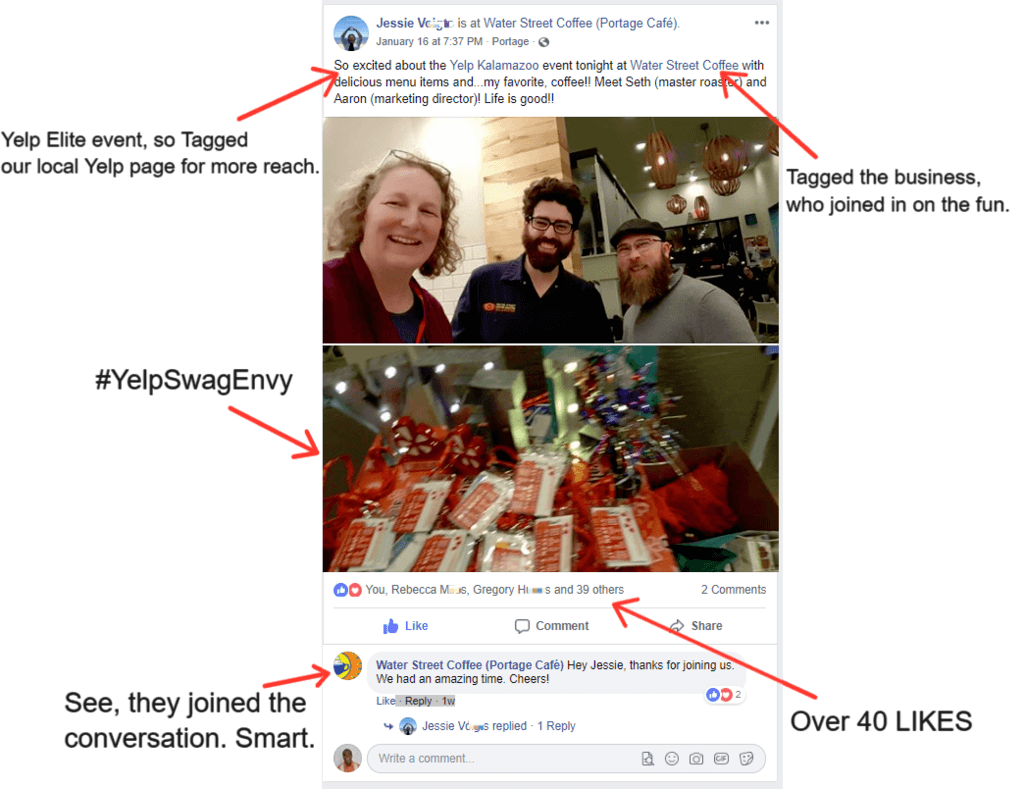 I told you she loves coffee. Jessie waited all year for the monthly Yelp Elite event that featured local roaster and coffee shop mainstay Water Street Coffee. She loved this event so much that she posted it to Instagram, too (what business doesn't love cross-social promotion?).
You want that kind of passionate person checking in. They are at your business for a reason!
This Check In had 41 likes and 2 comment threads. Even more, though, she got texts from local friends asking what foods she had tried, liked, and would recommend. She mentioned to our daughter's accompanist what she loved from that evening. His wife used to work at Water Street, before their baby came, and he said he couldn't wait to tell her (and her former management colleagues there). Small world!
The power of a Facebook Check In goes way beyond what is visible on Facebook. It's like an ocean–the surface is a miniscule part of the whole.
And then…
The Good. The Bad. And The Ugly.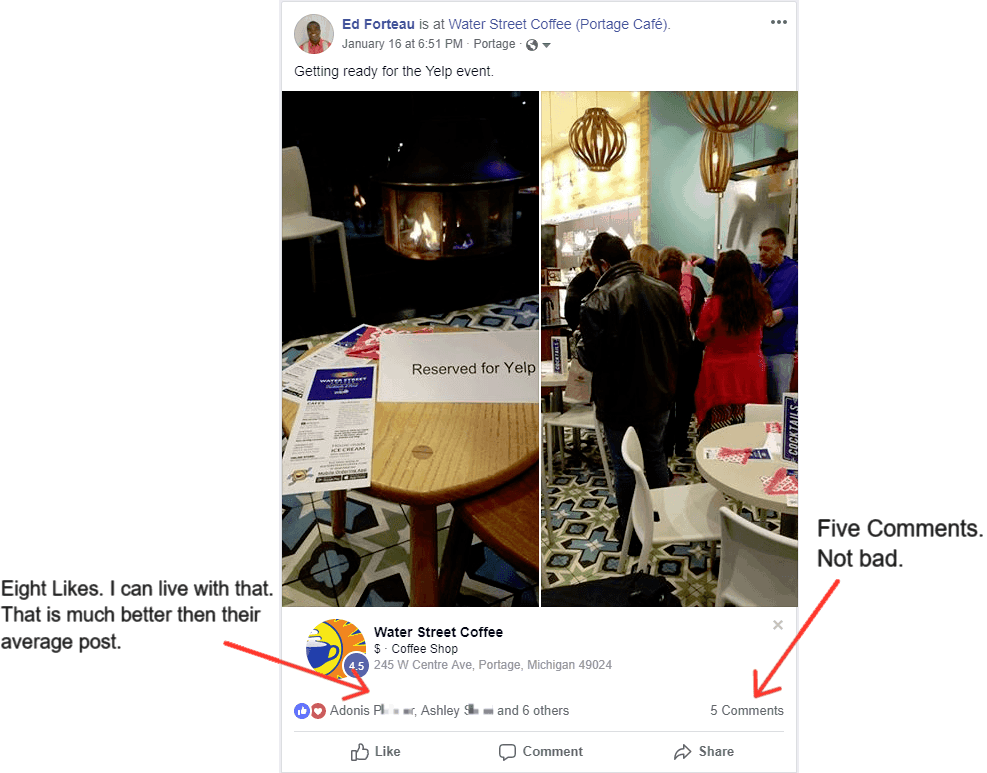 My wife and I aren't in competition. I'd lose every time. Remember, social media, from as a consumer's prospective, is her thing, not mine. I see Facebook as a business tool.
Having said that, here is my Check In of the Yelp Elite event. It was taken as people were signing in. I'm not a Yelp Elite. I just tag along to keep her company (read: when she isn't butterflying around talking to everyone).
Considering my Facebook friends almost never hear from me, 8 people Liked the Check In, and 5 people Commented on it. If I were a betting man, and I am when it comes to marketing success, I would guess this Check In reached at least 1,000 people. Not bad for the Facebook Grinch.
Who is using the power of pre-suasion?
Check Ins are happening all around you. Are you part of it?
Now let's look at the Facebook Check Ins around the Kalamazoo area…
By Playing The Check In Game!
Look at some of these Check In numbers around Kalamazoo, MI.
This was fun. I felt like Magnum P.I. I drove around town, parked in front of businesses, and took screen shots of these Check In numbers.
The numbers are really eye-opening. I'll stop talking now, so you can absorb the power of my detective work.